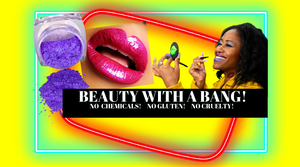 Fall glam!
tlc for your lips!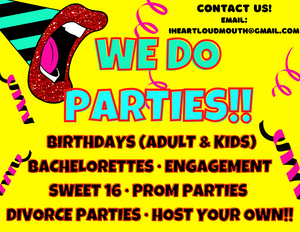 FOR THE PARTY ANIMALS!!
Let your hair down with our party packages! Grab some beauty party favors for you and your guests, or host your OWN party!! Email or call us for more details at iheartloudmouth@gmail.com
Testimonials



Just wanted to drop a quick note on the Lip Drip Hydration Mask. First, I LOVE IT. Second, I had an unexpected use for it when I didn't have any lotion for my feet! It made my feet look great! Not sure if you plan on making this product in a larger size, but just food for thought. Great product!

Amber S.
OMG I CANNOT EVEN...I put ["Thou Shalt Not Steel" Lip Frosting] on right away, and I'm flipping out it's so light and creamy aaaaah I wanna go do my makeup like right tf now but first I gotta eat!





Bonnie



I. Just. Got. My. Package. I barely opened it and had to order more! Thanks for the lip frosting! It's gorgeous! And let me tell you, you did an awesome job of shade variation in just a few shades [of concealers]. I know nothing of dark colors, but as a paper white person, You. Nailed. It.

Joni
Her pigmentation is nothing to play with!!

Vanessa
Loving Loudmouth Lips! Our new custom "Tropic like it's Hot" lip color is fun and has held up the entire game day!! We're SO amazed by how well it stays!! We're obsessed!

Lakeland Tropics Cheerleaders